Pengaruh Gaya Belajar terhadap Tingkat Stres Siswa Sekolah Menengah Kejuruan Polimedik Depok
Siskandar Siskandar

Institut Perguruan Tinggi Ilmu Al-qur'an (PTIQ) Jakarta

Ahmad Mulyono

Institut Perguruan Tinggi Ilmu Al-qur'an (PTIQ) Jakarta
Abstract views:
260
,
pdf downloads:
577
Keywords:
learning style, stress level, students of SMK Polimedik
Abstract
This study aims to determine and test empirical data related to student learning styles on stress levels. This research uses a quantitative approach through a survey method. The sample of this research was 69 students of SMK Polimedik Depok. Data were collected techniques using a questionnaire, observation, and documentary studies. The data analysis technique used is descriptive analysis, correlation coefficient, and simple regression analysis. The results of this study indicate that there is a negative and significant influence between learning styles and stress levels of students of SMK Polimedik Depok. This is known based on the results of the correlation coefficient of -0.515 and the coefficient of determination R-square of 0.265. The simple regression results show the equation Ŷ = 51.049 - 0.177 X1, which means that partially if there is an increase in one unit of learning style score, it will affect the decrease in student stress level scores by 0.177.
Downloads
Download data is not yet available.
References
Arikunto, Suharsimi. (2002). Prosedur Penelitian Suatu Pendekatan Praktek, edisi Revisi, Jakarta: Rineka Cipta.
Aryani, Farida, (2016). Stres Belajar: Suatu Pendekatan Dan Intervensi Konseling, Makassar: Edukasi Mitra Grafika.
DePorter, Bobbi dan Mike Hernacki. (2007). Quantum Learning: Membiasakan Belajar Nyaman dan Menyenangkan diterjemahkan oleh Alwiyah Abdurrahman, Bandung: Kaifa.
Gujjar, Aijaz Ahmed dan Rabia Tabassum. (2011). "Assessing Learning Styles of Student Teachers at Federal College of Education", Procedia - Social and Behavioral Sciences, 30(1), 212-228.
Hadi, Sutrisno. (1990). Metodologi Research, Yogyakarta: Andi Offset, Cet. Ke-2.
Hasan, Aliah B Purwakania. (2008). Pengantar Psikologi Kesehatan Islami, Jakarta: PT. RajaGrafindo Perkasa.
http://pekanbaru.tribunnews.com/2019/03/03/tak-sanggup-kerjakan-tugas-sekolah-yang-menumpuk-seorang-siswa-smp-stres-dan-nekat-bunuh-diri?page=1 diakses pada 25 Maret 2019.
https://news.detik.com/berita/d-4033361/akhir-tragis-abg-terjun-dari-apartemen-karena-stres-hadapi-ujian diakses pada 25 Maret 2019.
https://www.cnnindonesia.com/gaya-hidup/20151009230145-255-84090/stres-pada-remaja-rasanya-seperti-jelangkung diakses pada 25 Maret 2019.
Mulyono, A. (2020). Pengaruh Gaya Belajar dan Lingkungan Sekolah terhadap Tingkat Stress Siswa SMK Polimedik Depok. Tesis. PPS-PTIQ Jakarta
Nasution, S, (1988). Berbagai Pendekatan Dalam Proses Belajar Mengajar, Jakarta: Bina Aksara, Cetakan ke-4.
National Safety Council, (2003). Manajemen Stres, diterjemahkan oleh Palupi Widyastuti dari judul Stress Management, Jakarta: EGC, 2003
Sopiatin, Popi dan Sohari Sahrani. (211). Psikologi Belajar dalam Perspektif Islam, Bogor: Penerbit Ghalia Indonesia.
Sukmadinata, Nana Syaodih. (2017). Metode Penelitian Pendidikan, Cet ke-12, Bandung: PT. Remaja Rosdakarya.
Sulistiana, D. (2016). Keefektifan Penerapan Paduan Model Pembelajaran Problem Solving dan Kooperatif Tipe Stad untuk Meningkatkan Hasil Belajar dan Kemampuan Berpikir Kritis Siswa Sma Kelas XI IPA. Cendekia: Jurnal Pendidikan Dan Pembelajaran, 9(2), 123-134. https://doi.org/10.30957/cendekia.v9i2.34
Taufik, dkk. (2013). "Kondisi Stres Akademik Siswa SMA Negeri di Kota Padang," dalam Jurnal Konseling dan Pendidikan, Vol. 1 No. 2 Tahun 2013.
Trihendradi, C, (2010). Step by Step SPSS 18 Analisis Data Statistik, Yogyakarta: Andi Offset.
Undang-undang No. 20 Tahun 2003 Tentang Sistem Pendidikan Nasional
Utomo, F. H., Wardhani, I. S., & Asrori, M. A. R. (2015). Komunikasi Matematika Berdasarkan Teori Van Hiele pada Mata Kuliah Geometri Ditinjau dari Gaya Belajar Mahasiswa Program Studi Pendidikan Matematika. Cendekia: Jurnal Pendidikan Dan Pembelajaran, 9(2), 159-170. https://doi.org/10.30957/cendekia.v9i2.37
Wagiran, (2013). Metodologi Penelitian Pendidikan: Teori dan Implementasi, Yogyakarta: Penerbit Deepublish.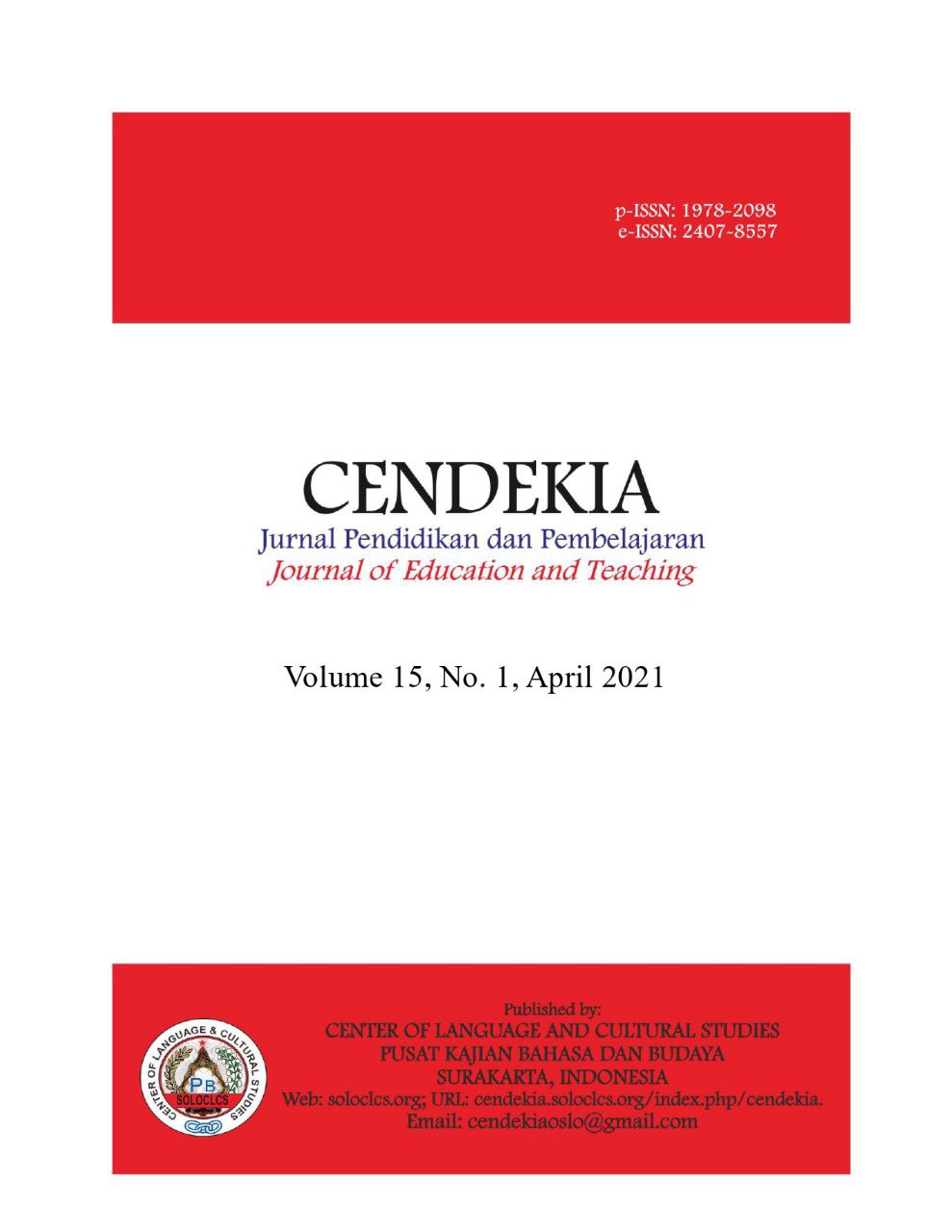 How to Cite
Siskandar, S., & Mulyono, A. (2021). Pengaruh Gaya Belajar terhadap Tingkat Stres Siswa Sekolah Menengah Kejuruan Polimedik Depok. Cendekia: Jurnal Pendidikan Dan Pembelajaran, 15(1), 28-43. https://doi.org/10.30957/cendekia.v15i1.652
Authors who publish with this journal agree to the following terms:
Authors retain copyright and grant the journal right of first publication with the work simultaneously licensed under a Creative Commons Attribution-ShareAlike 4.0 International License that allows others to share the work with an acknowledgement of the work's authorship and initial publication in this journal.
Authors are able to enter into separate, additional contractual arrangements for the non-exclusive distribution of the journal's published version of the work (e.g., post it to an institutional repository or publish it in a book), with an acknowledgement of its initial publication in this journal.
Authors are permitted and encouraged to post their work online (e.g., in institutional repositories or on their website) prior to and during the submission process, as it can lead to productive exchanges, as well as earlier and greater citation of published work (See The Effect of Open Access).