Peningkatan Penguasaan Materi Taharah Menggunakan Metode STAD pada Peserta Didik SMPN 11 Mataram
Fitri Sabekti

SMP Negeri 11 Mataram, Kota Mataram Jl. Panji Asmara No.22, Kekalik Jaya, Kec. Sekarbela, Kota Mataram, Nusa Tenggara Barat
Abstract views:
167
,
pdf downloads:
215
Keywords:
STAD method, understanding text, taharah
Abstract
This study aims to determine the increase in the ability to understand taharah material in class VII students of SMP Negeri 11 Mataram by using the STAD type cooperative learning method. This research uses the classroom action research method. The subjects of this study were students of class VII A of SMP N 11 Mataram in the academic year 2019/2020 as many as 30 students consisting of 13 students and 17 students. The results showed that the ability of students to understand the taharah material increased in cycle 1, namely the number of students whose scores were below the KKM or included in the lower group category as many as 10 students or 33.33% and those included in the medium group category as many as 15 students or 50%, while 5 students or 16.67% are in the upper group category, which is getting 85 and above. In cycle 2 the students' abilities increased until there were only two students whose scores were less than the KKM or 6.66%, 17 students or 56.67% got a score range of 78-84, and a total of 11 students or 36.67% were included in the group category. above because it gets a score of 85-100. Increased learning success can also be shown by increasing student activity. Thus, it can be concluded that the STAD method can improve the ability to understand taharah material in class VII students of SMPN 11 Mataram for the 2019/2020 school year.
Downloads
Download data is not yet available.
References
Aibak, Kutbuddin. (2015). Fiqih Tradisi: Menyibak Keragaman dalam Keberagamaan. Yogyakarta: Kalimedia.
Aliya. (2021). Perbedaan Mendasar Hadas dan Najis. (Online) https://www.hijup.com/magazine/perbedaan-mendasar-hadas-dan-najis/
Arikunto, Suharsimi. (2008). Penelitian Tindakan Kelas. Jakarta: Bumi Aksara.
Aksara. Isjoni. (2010). Cooperative Learning Evektivitas Pembelajaran Kelompok. Bandung: Alvabeta.
Asniar, Maili. (2019). Penerapan Model Pembelajaran Kooperatif Tipe Student Team Achievement Division (STAD) untuk Meningkatkan Hasil Belajar PAI Siswa pada Materi Mengenal Para Rasul-Rasul Allah SWT di kelas V SDN. No. 026/XI Cempaka Tahun 2016/2017. https://www.researchgate.net/publication/336896082
Dalismi. (2016). Implementasi Model Think Pair Share dalam Pembelajaran Menangkap Makna Teks Tanggapan Kritis Siswa Kelas IX SMPN Karangploso. Lingua, (2016), 13(2): 241-254. (Online) https://lingua.soloclcs.org/index.php/lingua/article/view/179/173
Era. (2021). Perbedaan Hadas dan Najis dalam Islam dan Cara Menyucikannya. (Online) https://kumparan.com/berita-hari-ini/perbedaan-hadas-dan-najis-dalam-islam-dan-cara-menyucikannya-1v5LOuMTm79/full
Hamalik, Oemar. (2008). Kurikulum dan pembelajarannya. Jakarta: Bumi
Noviar. (2017). Upaya Peningkatan Hasil Belajar PAI dengan Menggunakan Model Pembelajaran Kooperatif Tipe STAD Pada Siswa Kelas VA SDN 015 Buluh Kasap Dumai Timur. (Online) https://media.neliti.com/media/publications/258394-upaya-peningkatan-hasil-belajar-pai-deng-309139a6.pdf
Paul, Richard dan Linda Elder. (2006). Critical Thinking Concepts and Tools. http://www.criticalthinking.org/files/Concepts_Tools.pdf

Reza, Ahmad. (2013). Panduan Lengkap Bersuci Untuk Muslim dan Muslimah. Yogyakarta: Diva Press.

Ritonga, Rahman dan Zainuddin. (1997). Fiqh Ibadah. Jakarta: Gaya Media Pratama.

Saputra, Andrian. (2021). Gara-Gara tak Istinja Bisa dapat Siksa Kubur. (Online). https://www.republika.co.id/berita/qmz2pl335/garagara-tak-istinja-bisa-dapat-siksa-kubur

Sa'di, Aqil dan Fiqhun Nisa. (2008). Thaharah-Shalat. Jakarta: Hikmah.

Schafersman, Steven D. (1991). An Introduction to Critical Thinking. http://facultycenter.ischool.syr.edu/wp-content/uploads/2012/02/Critical-Thinking.pdf

Sirajudin. (2011). Pentingnya Pengetahuan Thaharah dan Pengamalannya Bagi Masyarakat Tani Dusun Ma'lengu Kecamatan Bontolempangan Kabupaten Gowa. (Online) http://repositori.uin-alauddin.ac.id/6504/1/SIRAJUDDIN.pdf
Slavin, Robert E. 2010. Cooperatif Learning. Bandung : Nusa Media.
Sulistiana, Devita. (2015). Keefektifan Penerapan Paduan Model Pembelajaran Problem Solving dan Kooperatif Tipe STAD untuk Meningkatkan Hasil Belajar dan Kemampuan Berpikir Kritis Siswa SMA Kelas XI IPA. Cendekia, 9(2):123-134. (Online) https://cendekia.soloclcs.org/index.php/cendekia/article/view/34/40

Suprijono, Agus. (2003). Cooperative Learning Teori dan Aplikasi Paikem. Yogyakarta: Pustaka Pelajar.
Sugiono. (2010). Belajar dan Pembelajaran. Kediri: UNP.
Tampubolon, S. (2014). Penelitian Tindakan Kelas sebagai Pengembangan Profesi Pendidik dan Keilmuan. Jakarta: Erlangga.
Trinova, Zulvia dan Sri Dalena. (2017). Strategi Pembelajaran Kooperatif Tipe STAD dalam Pembelajaran PAI di SMPN 3 Lengayang. (Online) https://www.researchgate.net/publication/330708869_
Uminasih. (2019). Pengembangan Model Pembelajaran Kooperatif Tipe Student Teams Achievement Division (STAD) Untuk Meningkatkan Motivasi dan Prestasi Belajar Pada Mata Pelajaran PAI Kelas X SMA PGRI Pace Nganjuk. http://digilib.uinsby.ac.id/34802/3/Uminasih_F52317383.pdf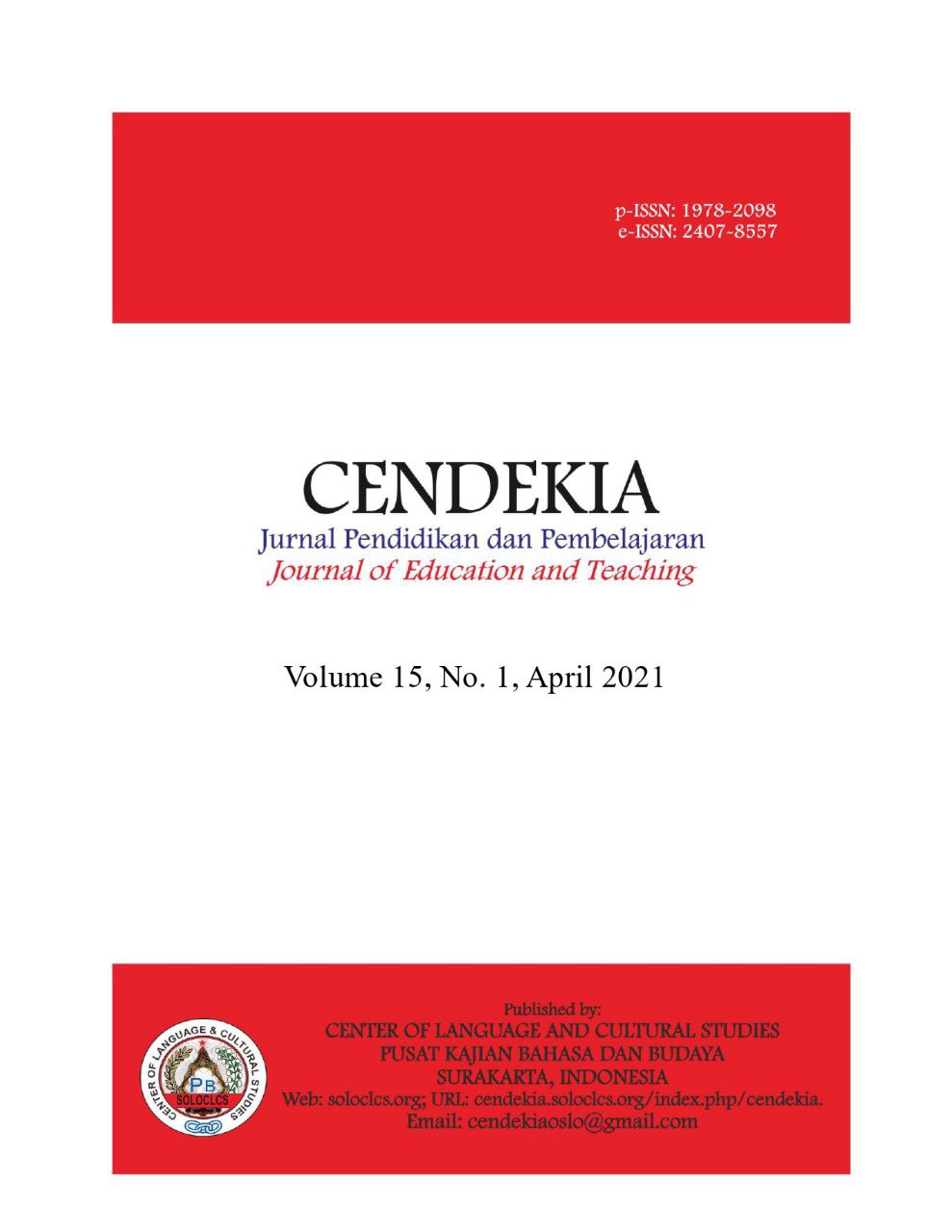 How to Cite
Sabekti, F. (2021). Peningkatan Penguasaan Materi Taharah Menggunakan Metode STAD pada Peserta Didik SMPN 11 Mataram . Cendekia: Jurnal Pendidikan Dan Pembelajaran, 15(1), 89-105. https://doi.org/10.30957/cendekia.v15i1.660
Authors who publish with this journal agree to the following terms:
Authors retain copyright and grant the journal right of first publication with the work simultaneously licensed under a Creative Commons Attribution-ShareAlike 4.0 International License that allows others to share the work with an acknowledgement of the work's authorship and initial publication in this journal.
Authors are able to enter into separate, additional contractual arrangements for the non-exclusive distribution of the journal's published version of the work (e.g., post it to an institutional repository or publish it in a book), with an acknowledgement of its initial publication in this journal.
Authors are permitted and encouraged to post their work online (e.g., in institutional repositories or on their website) prior to and during the submission process, as it can lead to productive exchanges, as well as earlier and greater citation of published work (See The Effect of Open Access).