MENINGKATKAN INTERAKSI DAN MOTIVASI BELAJAR IPS SISWA KELAS VII SMPN 1 KARANGPLOSO MELALUI TEKNIK STUDENT-CENTERED-LEARNING
Khumaidi Khumaidi

SMPN 1 Karangploso Malang
Abstract views:
250
,
PDF downloads:
169
Keywords:
education, cooperative learning, social sciences
Abstract
The aim of this research is to see the increase of motivation and interaction in learning social sciences of SMP students.  This study took place at the SMPN 1 Karangploso Malang involving 30 seventh graders. This research used a classroom action research approach using two cycles and each cycle was conducted for three meetings.  The results show that scores on IPS increase substantially from cycle I to cycle II.  In addition, motivation and interaction that are elaborated into five indicators increase from 76% to 93%. The results are: appreciating friends' contribution (76.7%), sharing the assignment with full responsibility (83.3%), asking query to the friend with full friendship (83.3%), giving assistance to review friends' tasks (90%), and giving suggestions (62.3).  This result implies that cooperative learning gives maximum benefits to develop motivation and interaction in the classroom and the method is necessary to develop for other lessons.
Downloads
Download data is not yet available.
References
Arends, R.I. 1998. Learning to Teach. Boston: McGraw Hill
Arikunto, S; Suharjono; Supardi. 2006. Penelitian Tindakan kelas. Jakarta: Bumi Aksara
Basrowi, 2006, "Praktik Pembelajaran dengan Pendekatan Student Centered Learning," Makalah disampaikan dalam Penataran Pekerti Guru UIB 19 April 2006.
Devid W. Johnson, Roger T. Johnson. 1994. Learning together and alone: Cooperative competivitive, and individualistic learning. Boston: Allyn & Bacon
Direktorat Pembinaan Pendidikan Tenaga Kependidikan dan Ketenagaan Perguruan Tinggi. 2004. Peningkatan Kualitas Pembelajaran. Jakarta: Direktorat Jendral Pendidikan Tinggi. Departemen Pendidikan Nasional
Firdaus L.N. 2005. "Strategi Pengelolaan Pemebelajaran Bermutu di Perguruan Tinggi." Makalah Disampaikan Dalam "Technical Asistance Peningkatan Metoda Pengajaran". Program Hibah Kompetensi A2 Jurusan Ilmu Kelautan Faperika Universitas Riau. Gedung Marine Science, 23-27 Nopember 2005
Ibrahim, M., F. Rachmadiarti; M. Nur., Ismono. 2000. Pembelajaran Kooperatif. Surabaya: University Press. UNESA
Pannen, P., D. Mustafa., M. Sekarwinahyu. 2001. Konstruktivisme dalam Pembelajaran. PAU. Jakarta: Dirjen Pendidikan Tinggi. Depdiknas
Sanjaya, Wina. 2005. Pembelajaran Dalam Implementasi Kurikulum Berbasis Kompetensi. Jakarta: Prenada Media
Slavin, R. E. 1995. Cooperative Learning: Theory, Research, and Paractice. Boston: Allyn and Bacon
Tim Kerja Dirbinsarak. 2005. Tanya Jawab Seputar Kurikulum Berbasis Kompetensi di Perguruan Tinggi. Jakarta: Ditjen Dikti. Depdiknas
Yulianingsih. 2017. Pengaruh Model Pembelajaran Make A Match dan Motivasi terhadap Prestasi Belajar IPS Siswa SMPN 1 Karangploso. Cendekia, 11(2):235-248.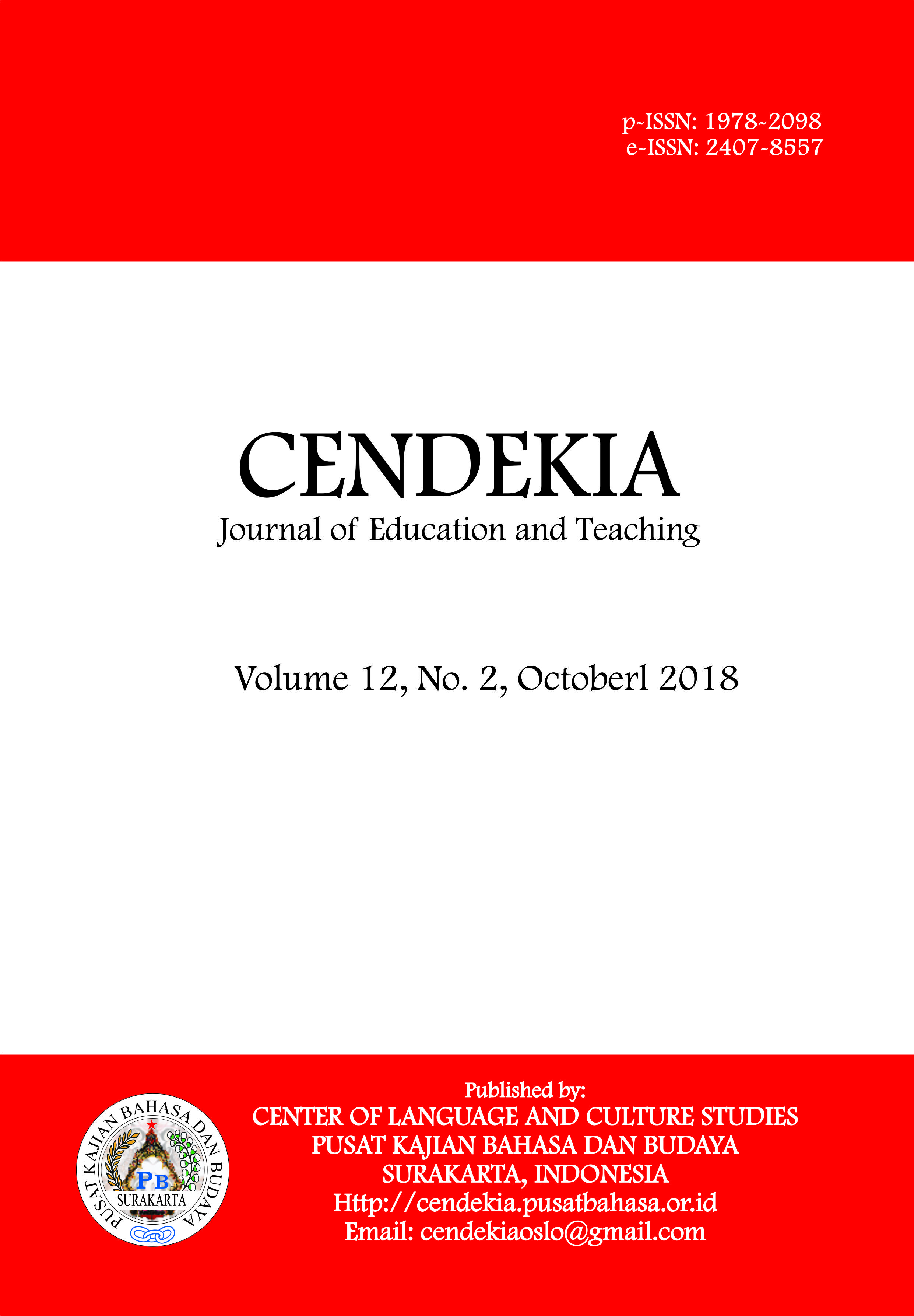 How to Cite
Khumaidi, K. (2018). MENINGKATKAN INTERAKSI DAN MOTIVASI BELAJAR IPS SISWA KELAS VII SMPN 1 KARANGPLOSO MELALUI TEKNIK STUDENT-CENTERED-LEARNING. Cendekia: Jurnal Pendidikan Dan Pembelajaran, 12(2), 129-140. https://doi.org/10.30957/cendekia.v12i2.523
Authors who publish with this journal agree to the following terms:
Authors retain copyright and grant the journal right of first publication with the work simultaneously licensed under a Creative Commons Attribution-ShareAlike 4.0 International License that allows others to share the work with an acknowledgement of the work's authorship and initial publication in this journal.
Authors are able to enter into separate, additional contractual arrangements for the non-exclusive distribution of the journal's published version of the work (e.g., post it to an institutional repository or publish it in a book), with an acknowledgement of its initial publication in this journal.
Authors are permitted and encouraged to post their work online (e.g., in institutional repositories or on their website) prior to and during the submission process, as it can lead to productive exchanges, as well as earlier and greater citation of published work (See The Effect of Open Access).