Application of Total Quality Services to Increase Non-Formal Education Institution Capacity in Kampung Inggris Kediri
Rinto Alexandro

Universitas Palangka Raya
Abstract views:
321
,
pdf downloads:
223
Keywords:
capacity, institution, education, non-formal, total quality service
Abstract
The objective of this study is to obtain a fixed model that can be applied in the framework of capacity building of course institutions through meeting national standards for non-formal education, accreditation registration, and the application of total quality service. This research method is action research ranging from the formation of teams per area & Need assessment, data processing of the needs assessment survey, socialization and training, facilitation of 20-course institutions to be registered for institutional accreditation to National Accreditation Board for Early Childhood Education and Non-Formal Education (BAN-PAUD-PNF), assistance to thin management institutions in prepare accreditation and implementation of TQS, explore cooperation with BAN-PAUD-PNF in Jakarta. Based on the results of data analysis it can be concluded: 1) to increase the capacity of course institutions it is necessary to improve quality through the accreditation of institutions from official state institutions, ISOs, and from the application of total quality service management (TQS). Through institutional accreditation, it will be able to increase public confidence in the existing course institutions. Likewise, with ISO, it will be able to increase public confidence, that the institution has implemented good management.
Downloads
Download data is not yet available.
References
Adawiah, Rabiatul. 2014. Peranan Lembaga Kursus dalam Pemberdayaan Masyarakat Di Kabupaten Balangan. Skripsi. Banjarmasin: Unlam
Alma, Buchari. 2007. Manajemen Pemasaran dan Pemasaran Jasa. Bandung: Alfabeta
Basrowi & Suwandi, 2008. Penelitian Kualitatif. Jakarta: Rineka Cipta
Hosea, Dian. 2015. Konsep Pengendalian Mutu, https://www.academia.edu/5622236/
Kotler & Keller. 2006. Marketing Manajemen (12nd ed.) Boston: Pearson Prentice Hall,
Krisna, N.L. 2016. Menciptakan Pelanggan. http://marketing-teori.blogspot.co.id/2007/04
Kurniasari, Yuyun Ika. 2014. Alasan Peserta Didik Memilih Kursus Tata Rias Pengantin (Studi Kasus di LKP Sanita Kabupaten Trenggalek). Skripsi, Jurusan Pendidikan Luar Sekolah, Fakultas Ilmu Pendidikan, Universitas Negeri Malang.
Maulia, Nurlaila Novi. 2009. "Perbedaan Hasil Belajar Siswa Kelas IV Yang Mengikuti Kursus Jarimatika dengan Yang Mengikuti Kursus Sempoa Pada Mata pelajaran Matematika Di SD Negeri 3 Rumbuk Lombok Timur". Skripsi, Jurusan Teknologi Pendidikan, Fakultas Ilmu Pendidikan, Universitas Negeri Malang
Morrissey, Vanessa. 2007. Quality control management. Florida: Nortchon.Inc.
Nurhandoko, Hilyar. 2003. Model Pembelajaran Kursus Komputer Di Lembaga Kursus Adias Sindo Cerdas (ASC) (Studi Kasus Salah Satu Lembaga Kursus Komputer di Jalan Sindoro No. 39 Kabupaten Pemalang). Skripsi. Semarang: Unnes
Priago, Ricad Neton. 2013. Pengelolaan Lembaga Kursus (LPK) Chinju Dalam Menyelenggarakan Kursus Bahasa Korea Di Kota Bengkulu. Skripsi. Bengkulu: Unib
Selfiadhy Putry Anjani, 2015. Memahami Konsep Pelayanan Prima. https://www.facebook.com/permalink
Sukmana, Cucu dan Dian Dwi Lestari. 2013. Analisis Mutu Kursus. Jakarta: Kemendikbud, Pusat Data Statistik. Bidang Pendayagunaan dan Pelayanan Data dan Statistik Pendidikan.
Tedja, Hendry Zaputra. 2016. Nilai Pelanggan dan Loyalitas Pelanggan. https://hendryza.wordpress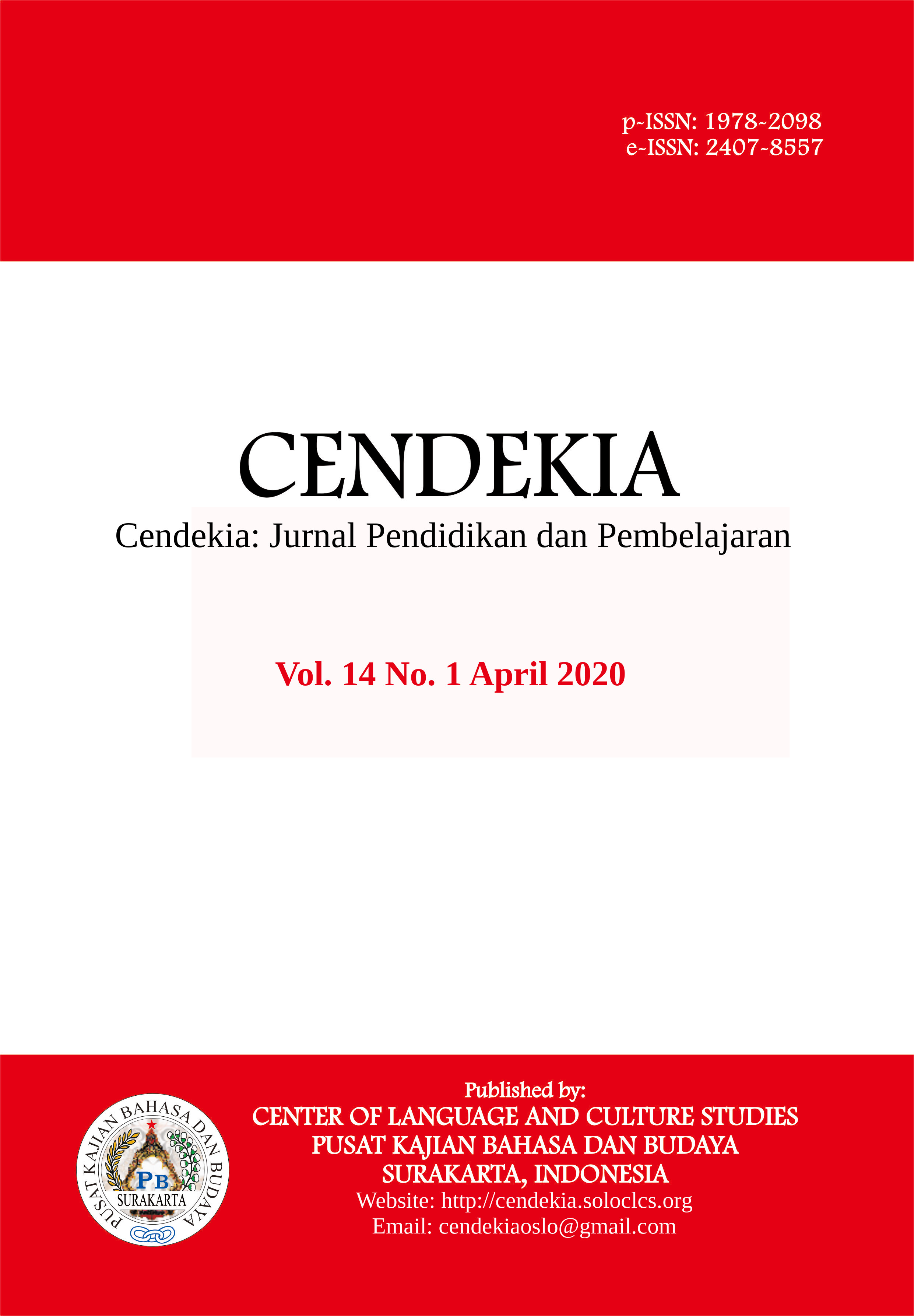 How to Cite
Alexandro, R. (2020). Application of Total Quality Services to Increase Non-Formal Education Institution Capacity in Kampung Inggris Kediri . Cendekia: Jurnal Pendidikan Dan Pembelajaran, 14(1), 63-76. https://doi.org/10.30957/cendekia.v14i1.611
Authors who publish with this journal agree to the following terms:
Authors retain copyright and grant the journal right of first publication with the work simultaneously licensed under a Creative Commons Attribution-ShareAlike 4.0 International License that allows others to share the work with an acknowledgement of the work's authorship and initial publication in this journal.
Authors are able to enter into separate, additional contractual arrangements for the non-exclusive distribution of the journal's published version of the work (e.g., post it to an institutional repository or publish it in a book), with an acknowledgement of its initial publication in this journal.
Authors are permitted and encouraged to post their work online (e.g., in institutional repositories or on their website) prior to and during the submission process, as it can lead to productive exchanges, as well as earlier and greater citation of published work (See The Effect of Open Access).