MENINGKATKAN KEMAMPUAN MEMBACA CERITA CEKAK MELALUI PENGUASAAN KOSA KATA BAHASA JAWA SISWA KELAS VIII SMPN 8 SURAKARTA
Sri Suprapti

SMPN 8 Surakarta Jl Hos Cokroaminoto 51 Surakarta
Abstract views:
578
,
PDF downloads:
397
Keywords:
Cerkak, Javanese vocabulary, aspects of a short story, short story.
Abstract
This study examines how reading in Javanese short story is improved by the mastery of Javanese vocabulary.  The study used Classroom Action Research that implemented two cycles, each of which consisted of three meetings.  The research was conducted in the ninth graders of SMPN 8 Surakarta involving 32 students. The results who that students improve their ability in reading comprehension of Javanese short story substantially.  Results of test comprehension on reading Javanese short story, task to evaluate short study aspects applied fro Javanese short story and effectiveness of classroom activities improve at two cycles, gaining minimum criteria of score that is higher than 75 and classical teaching of 85%.   It implies that the function of Javanese vocabulary is pivotal to improve students mastery in reading Javanese texts and provide patterns of how Javanese is implemented.  
Downloads
Download data is not yet available.
References
Alwi, Z. 1999. Peningkatan Mutu Pembelajaran Bahasa Indonesia melalui Model Integratif. Prosiding Seminar Hasil-Hasil Penelitian Peran IPTEKdalam Menciptakan Masyarakat yang maju dan Mandiri. Lemlit Unsri, Inderalaya 31 maret 1999
Alwasilah, A. Chaedar dan Senny Susana Alwasilah. 2005. Pokoknya Menulis. Bandung: PT. Kiblat Buku Utama.
Akhadiah MK, S. dkk. 1997. Materi Pokok Menulis I. Jakarta: UT.
Anderson, R.C. dan Pearson, D. 1984. A. Schema Theoritic View of Basic Process in Reading Comprehension. Dalam David Pearson (ed.), Handbook of Reading Research (hlm.255). New York: Longman.
Dahar, R.W. 1989. Teori –Teori Belajar. Jakarta:Erlangga.
Departemen Pendidikan Nasional, Dirjen Dikdasmen. 2002. Pendekatan Kontekstual (ContextualTeaching and Learning (CTL)). Jakarta.
Depdikbud. 1995. Petunjuk Tekniks Mata Pelajaran Bahasa Indonesia. Jakarta.
Indrawati. S. 1996. Pengaruh Konteks Visual terhadap Pemahaman Wacana Murid Sekolah Dasar. Jurnal Imu Pendidikan, Agustus, III/3.
Indrawati, S. dan Alwi, Z. 2001. Upaya Meningkatkan Kemampuan Pemahaman Wacana melalui Model Pengembangan Skemata pada Siswa SLTPN Negeri 1 Indralaya. Forum Kependidikan, September 1/21.
Joyce, B. dan Weil, M. 1986. Models of Teaching. New Jersey: Prectice-Hall.
Madya, S. 1994. Panduan Penelitian Tindakan. Yogyakarta: Lembaga Penelitian IKIP.
Nurhadi & Senduk. G. 2004. Pembelajaran Kontekstual dan Penerapannya dalam KBK. Malang: Universitas Negeri Malang.
Nurgiayantoro, Burhan. 1995. Teori Pengkajian Fiksi . Yogyakarta: Gajah Mada
University Press.
Nurullah, Fitri Dian; Rusdiawan & Nuriadi. 2018. Pembelajaran Menulis Cerpen Menggunakan Media Lagu Daerah Sumbawa pada Mata Pelajaran Bahasa Indonesia di Kelas X SMAN 1 Sekongkang. Lingua, 15(2):163-174.
DOI: 10.30957/lingua.v15i2.493.
Omaggio, Alice. 1986. Teaching Language in Context. Boston: Heinic Publishers.
Purnomo, M.E. 2006. Kurikulum Berbasis Kompetensi dalam Pembelajaran. Makalah disampaikan pada Seminar FKIP Unsri, 30 Januari 2006.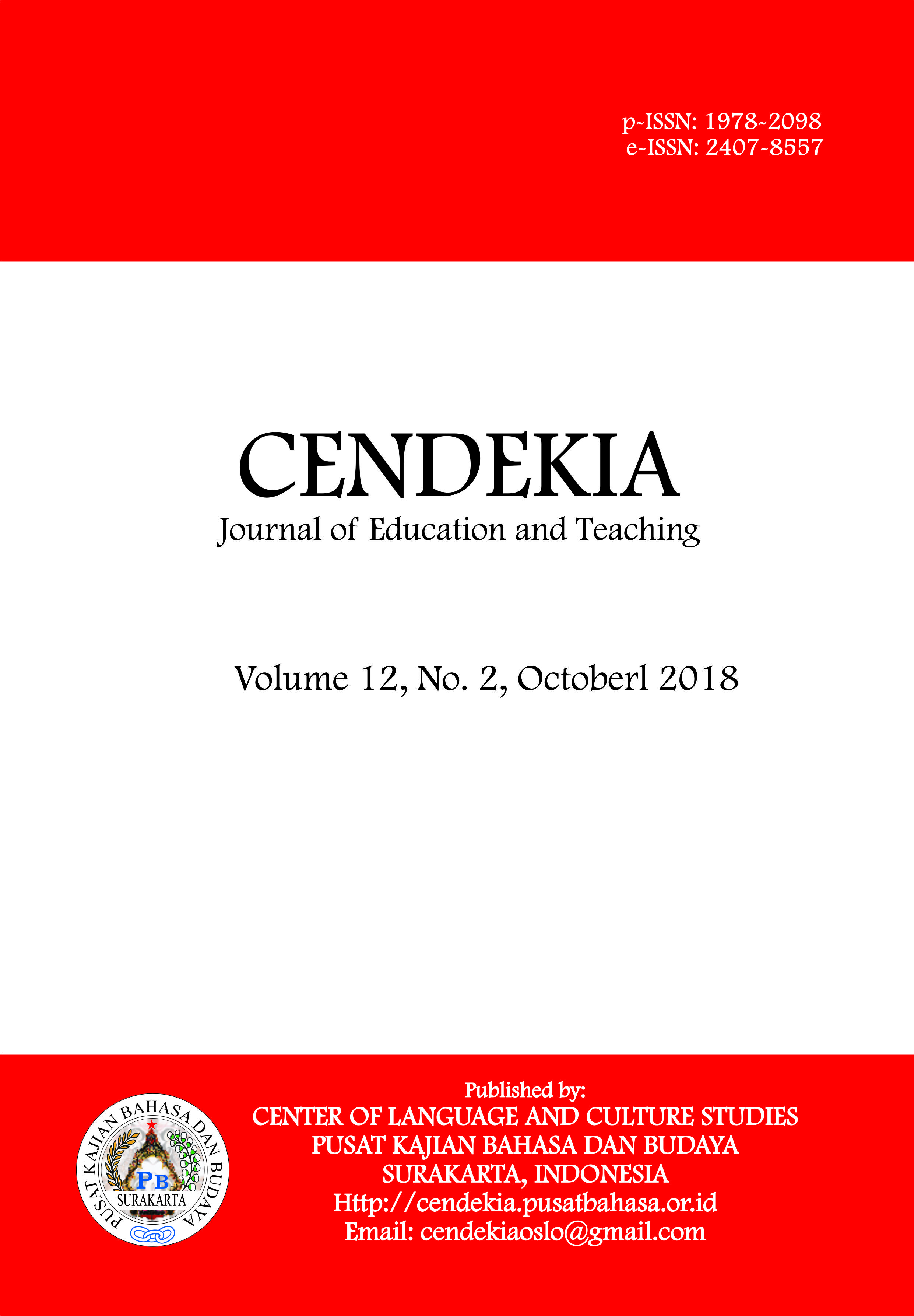 How to Cite
Suprapti, S. (2018). MENINGKATKAN KEMAMPUAN MEMBACA CERITA CEKAK MELALUI PENGUASAAN KOSA KATA BAHASA JAWA SISWA KELAS VIII SMPN 8 SURAKARTA. Cendekia: Jurnal Pendidikan Dan Pembelajaran, 12(2), 111-128. https://doi.org/10.30957/cendekia.v12i2.522
Authors who publish with this journal agree to the following terms:
Authors retain copyright and grant the journal right of first publication with the work simultaneously licensed under a Creative Commons Attribution-ShareAlike 4.0 International License that allows others to share the work with an acknowledgement of the work's authorship and initial publication in this journal.
Authors are able to enter into separate, additional contractual arrangements for the non-exclusive distribution of the journal's published version of the work (e.g., post it to an institutional repository or publish it in a book), with an acknowledgement of its initial publication in this journal.
Authors are permitted and encouraged to post their work online (e.g., in institutional repositories or on their website) prior to and during the submission process, as it can lead to productive exchanges, as well as earlier and greater citation of published work (See The Effect of Open Access).