Konseling Indigenous: Menggali Nilai–Nilai Kearifan Lokal Tradisi Sedekah Bumi dalam Budaya Jawa
Suci Prasasti

Bimbingan Konseling, FKIP Universitas Tunas Pembangunan Surakarta
Abstract views:
710
,
pdf downloads:
704
Keywords:
indigenous counseling, local wisdom, earth alms, Javanese culture
Abstract
One of the traditions of the Javanese people that still exists today and is ingrained and has become a routine for the Javanese every year is 'sedekah bumi'. The systematic literature review (SLR) approach is used in this paper to examine five scientific articles on the local wisdom values ​​of the "sedekah bumi" tradition (Indigenous Counseling) practiced in Javanese culture. For Javanese people who work as farmers and fishermen, this tradition has become an annual ritual. 'Sedekah bumi' or 'sedekah laut' tradition is not only a routine that is carried out every year, but both traditions have deep meaning and are ingrained in Javanese society. Therefore, even now the Javanese people still carry out the tradition of "sedekah bumi"and 'sedekah laut' and make it their identity in their daily behavior. 'Sedekah bumi' tradition is carried out once a year in order to maintain harmonious relations between individuals and their ancestors or with nature and is a form of local wisdom in the form of ceremonies or traditions which are a manifestation of communication between humans and nature.
Downloads
Download data is not yet available.
References
Absolon, K. (2010). Indigenous Wholistic Theory: A Knowledge Set for Practice. Journal of First Peoples Child & Family Review 5(2), 74-87.
Arifin, N. (2017). Ilmu Sosial Dasar. Bandung: Pustaka setia.
Arinda,I.Y.R. (2016). Sedekah Bumi (Nyadran) Sebagai Konvensi Tradisi Jawa dan Islam Mayarakat Sraturejo Bojonegoro.El Harakah Vol.16 No.1 Tahun 2014
Azra,A.(2003). Demokrasi, Hak Asasi Manusia, dan Masyarakat Madani. Jakarta: Raja Grafindo Persada.
Berger, P.L. & Luckmann, T.L. (1991). The social construction of reality: a treatisein the sociology of knowledge. US: Anchor Books.
Bratawidjaja, T.W. (1988). UpacaraTradisionalMasyarakat Jawa. Jakarta: Pustaka Sinar Harapan.
Herusatoto, B. (2003). Simbolisme Dalam Budaya Jawa. Yogyakarta: Hanindita Graha Widia.
Jalil, M.(2020). Eksistensi Sedekah Bumi Di Desa Gondang Manis Kudus Dalam Usaha Mengobati Ketidakpedulian Terhadap Lingkungan: Fenomena Budaya dikaji dalam perspekstifTasawuf dan Sains Modern. Esoterik: Jurnal Akhlak dan Tasawuf, 2(2), 210-222.
Jumadi,Y.H. (2017). Konservasi Sumber Daya Air Berbasis Kearifan Lokal Untuk Membentuk Karakter Peduli Lingkungan: Studi Tradisi Sedekah Bumi. Citizenship: Jurnal Pancasila dan KewarganegaraanAvaliable online at : http://e-journal.unipms.ac.id/index.php/citizenship Print ISSN: 2302-433X Online ISSN: 2579-5740.
Kasih, WN. (2017). Upacara Sedekah Bumi dalam Perspektif Islam. [Skripsi]. Universitas Islam Negeri Walisongo Semarang.
Kemdikbud. (2016). Peta Budaya Sedekah Bumi. Online https://belajar.kemdikbud.go.id.
Koentjaraningrat (1990). Pengantar Ilmu Antropologi. Jakarta: PT Rineka Cipta.
Lestari, E.D. et.al. (2018). Tadisi Sedekah Bumi Dalam Pelestarian Budaya Lokal Di Dusun Wonosari Desa Tebang Kacang. Jurnal Pendidikan dan Pembelajaran Khatulistiwa. 7(9), 1-10.
Mulder, N. (1981). Kepribadian Jawa Dan Pembangunan Nasional. Yogyakarta: Gajah Mada University Press.
Novianti, W. (2012). Makna Tradisi Sedekah Bumi bagi Masyarakat di Desa LaharPatih.Universitas SebelasMaret. (Online) sosiologi.fisip.uns.ac.id/online-jurnal/wp.../8.-Dialektika@2012-Widya-Novianti.pd. Diakses Kamis, 1 Februari 2018. Pukul 14.43Wib.
O'dea, T.F. (1996). Sosiologi Agama (Suatu Pengenalan Awal). Jakarta: PT. Raja Grafindo Persada.
Prasetyo, U dan Sarwoprasodjo, S. (2011). Komodifikasi Upacara Tradisional Seren Taun dalam Pembentukan IdentitasKomunitas. Sodality:Jurnal Transdisiplin Sosiologi.5(2), 175-190.
Rahmawati, S.U. (2014)."Meningkatkan Karakter Peduli Lingkungan Melalui Sekolah Berbudaya Lingkungan Hidup". Makalah. Bandung: UPI.
Ratts, M.J., & Pedersen, P.P. (2014). Counseling for Multiculturalism and Social Justice: Integration, Theory and Application. Alexandria, VA: ACA-USA.
Ridwan, dkk. (2008). Islam Kejawen. Purwokerto: STAIN Purwokerto Press.
Sedyawati, E. (2010). Budaya Indonesia: Kajian Arkeologi, Seni, dan Sejarah. Jakarta: Raja Grafindo Persada.
Slamet, et.al. (2015). Pemanfaatan Ruang Telaga Pada Tradisi Sedekah Bumi Desa Cerme Kidul, Kecamatan Cerme, Kabupaten Gresik. Jurnal RUAS.13(1), Juni 2015, ISSN 1693-370. Diakses pada tanggal 25 Januari 2016
Soekmono, R. (1973). Pengantar Sejarah KebudayaanIndonesia. Yogyakarta: Kanisius
Sue, D.W., & Sue, D. (2008). Counseling the Culturally Diverse: Theory and Practice (5 th edition). New Jersey: John Wiley and Sons, Inc.
Supriatna, A.L., Nugraha, Y.A. (2020). Menguak Realitas Praktik Sedekah Bumi Di Desa Ciasmara Kecamatan Pamijahan Kabupaten Bogor. Jurnal Penelitian Sosial. 2(1), 43-60.
Ujan, A., dkk. (2009). Multikulturalisme. Jakarta: PT. Indeks.
Van Peursen, C.A. (1988). Strategi Kebudayaan. Yogyakarta: Kanisius.
Wagiran. (2012). "Pengembangan Karakter Berbasis Kearifan Lokal Hamemayu Hayuning Bawana (Identifikasi Nilai-nilai Karakter Berbasis Budaya)" Jurnal Pendidikan Karakter. 3(1), 329-339.
Wignjosoebroto, S. (2007). Budaya Daerah dan Budaya Nasional. Jurnal: Menggali Filsafat dan Budaya Jawa. Jakarta: Prestasi Pustaka.
Yunus, R. (2013). "Transformasi Nilai-Nilai Budaya Lokal sebagai Upaya Pembangunan Karakter Bangsa (Penelitian Studi Kasus Budaya Huyula di Kota Gorontalo)" Jurnal Penelitian Pendidikan, 1(14), 65-77.
Zuchdi, D. (2011). Pendidikan karakter dalam perspektif teori dan praktik. Yogyakarta: UNY Press.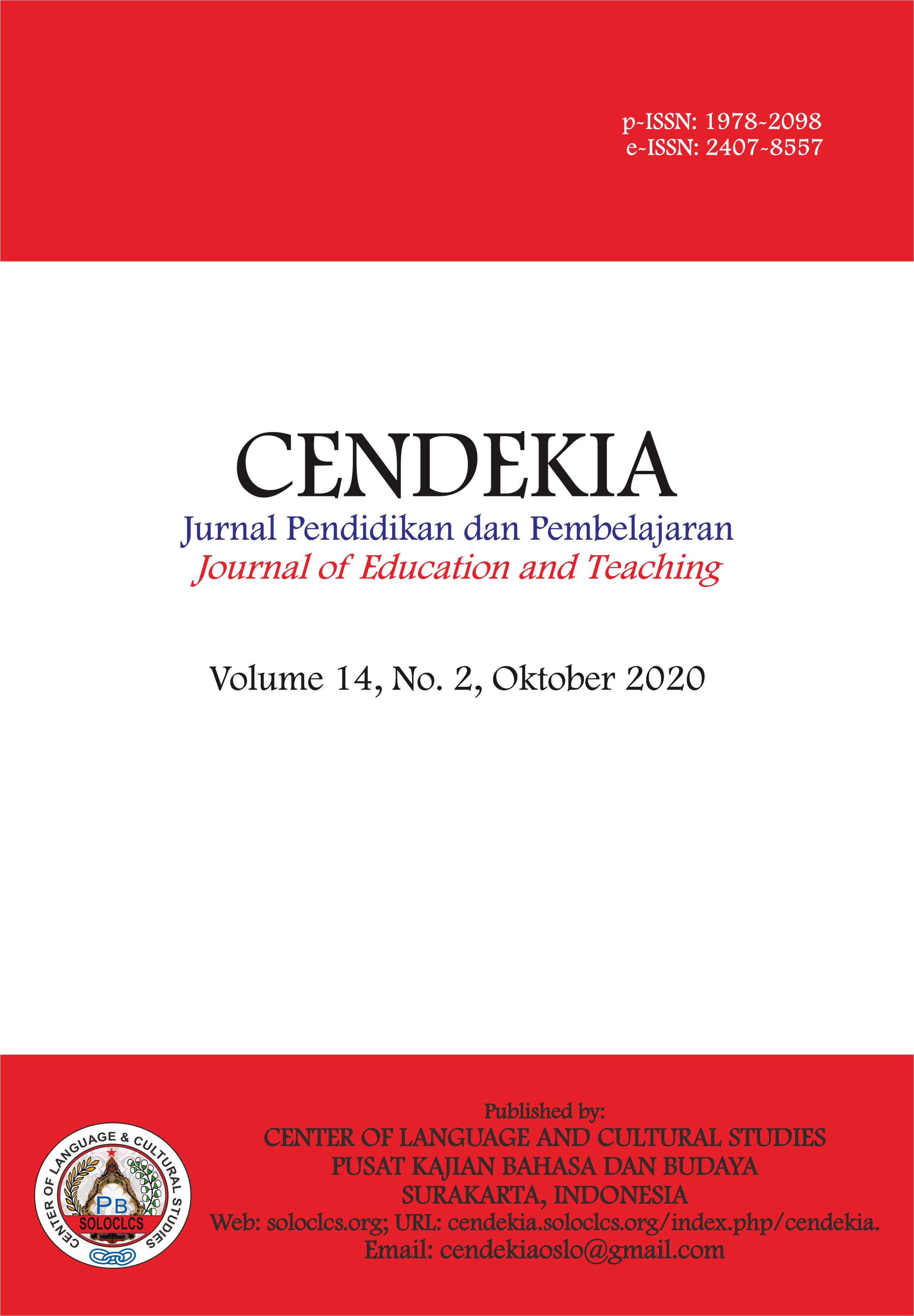 How to Cite
Prasasti, S. (2020). Konseling Indigenous: Menggali Nilai–Nilai Kearifan Lokal Tradisi Sedekah Bumi dalam Budaya Jawa. Cendekia: Jurnal Pendidikan Dan Pembelajaran, 14(2), 110-123. https://doi.org/10.30957/cendekia.v14i2.626
Copyright (c) @2020 soloclcs.org
This work is licensed under a Creative Commons Attribution-ShareAlike 4.0 International License.
Authors who publish with this journal agree to the following terms:
Authors retain copyright and grant the journal right of first publication with the work simultaneously licensed under a Creative Commons Attribution-ShareAlike 4.0 International License that allows others to share the work with an acknowledgement of the work's authorship and initial publication in this journal.
Authors are able to enter into separate, additional contractual arrangements for the non-exclusive distribution of the journal's published version of the work (e.g., post it to an institutional repository or publish it in a book), with an acknowledgement of its initial publication in this journal.
Authors are permitted and encouraged to post their work online (e.g., in institutional repositories or on their website) prior to and during the submission process, as it can lead to productive exchanges, as well as earlier and greater citation of published work (See The Effect of Open Access).