PENGARUH SERTIFIKASI GURU DAN PENGEMBANGAN KARIR TERHADAP KEPUASAN KERJA GURU AKUNTANSI SMA DI KOTA CILEGON
Anis Fuad Salam

STIE Banten

Suwiro Heriyanto

STIE Banten
Abstract views:
648
,
PDF downloads:
422
Keywords:
Certification, career development, job satisfaction
Abstract
The purpose of this study is to know: 1) the effect of certification on the performance of accounting teachers in Senior High School (SMA) Kota Cilegon; 2) the influence of career development on the performance of high school accounting teachers in Cilegon City; 3) the influence of certification and career development together towards the performance of accounting teachers in SMA Kota Cilegon. The method used is a survey of all high school accounting teachers in Cilegon City. Number of samples counted 48 people. Based on the research results can be concluded: (1) There is a significant influence between teacher certification with job satisfaction of accounting teachers in Cilegon City; (2) there is a significant influence between career development with job satisfaction of accounting teacher in Cilegon City; and (3) there is a significant influence between teacher certification and career development on accounting teacher accounting satisfaction in Cilegon City.
Downloads
Download data is not yet available.
References
Almaidah (2013) Pengaruh kompetensi guru dan pengembangan karir terhadap kepuasan kerja guru di SMA N 1 Natar Kabupaten Lampung Selatan, Jurnal Mainstream, 4(1):34-46.
Boyd, D., Goldhaber, H., & Wyckoff, J. (2007). "The effect of certification and preparation on teacher quality." The Future of Children, 1(1):1-12. http://www.jstor.org/ pdf
Darling-Hammond, L., Holtzman, D., Gatlin, S.J., & Heilig, J. V. (2005). Does teacher preparation matter? Evidence about teacher certification, Teach for America, and teacher effectiveness. Education Policy Analysis Archives, 13(42). http://epaa.asu.edu/epa//v13n42/.
Djestawana, I Gusti Gede, (2009), Pengaruh Pengembangan Organisasi, Kepemimpinan, Pengembangan Karir terhadap Kepuasan Kerja dan Implikasinya pada Kinerja Pegawai Puskesmas Kota Denpasar Provinsi Bali, Disertasi tidak dipublikasikan, Jakara, PPS Program Doktor Ilmu Ekonomi, UPI YAI.
Kalayar, Murat dan Metin Ozmuraf, (2009), "The Effect of Individual Career Planning on Job Satisfaction: A comparative study on academic and administrative staff," The Journal of Faculty of Economics and Administrative science. 14(1):13-24.
Kane T.J. et.al (2008) "What does certification tell us about teacher effectiveness? Evidence from New York City," Economics of Education Review, 27: 615–631.
Muhajir, Muhammad. 2011. "Hubungan antara Keefektifan Sertifikasi Guru, Kompetensi Profesional, Semangat Kerja, dan Budaya Mutu dengan Kinerja Guru pada Sekolah Dasar Negeri di Kabupaten Jember." Disertasi, Program Studi Manajemen Pendidikan Program Pascasarjana, Universitas Negeri Malang
Pearson, Cecil, (2008) "Career Development, Job Satisfaction, and Career Commitment: Evidence from the Singaporean Hospitality Industry," Journal Business, Institute of Management Technology, 12(2):239-254.
Riva'i, Veithzal (2005) Manajemen Sumberdaya Manusia untuk Perusahaan: dari Teori ke Praktik. Jakarta: Radja Grapindo Persada
Robbins, Stephen dan Timothy A. Judge (2008) Organization Behavior. diterjemahkan oleh Angelica dkk, Jakarta: Salemba Empat
Kalimah, Siti (2014) Hubungan sertifikasi guru dan pengembangan karir terhadap tingkat kepuasan kerja guru di SMP N 2 Grabag Kabupaten Purworejo Jawa tengah, Jurnal Ilmu Pendidikan, 2(1): 1-12.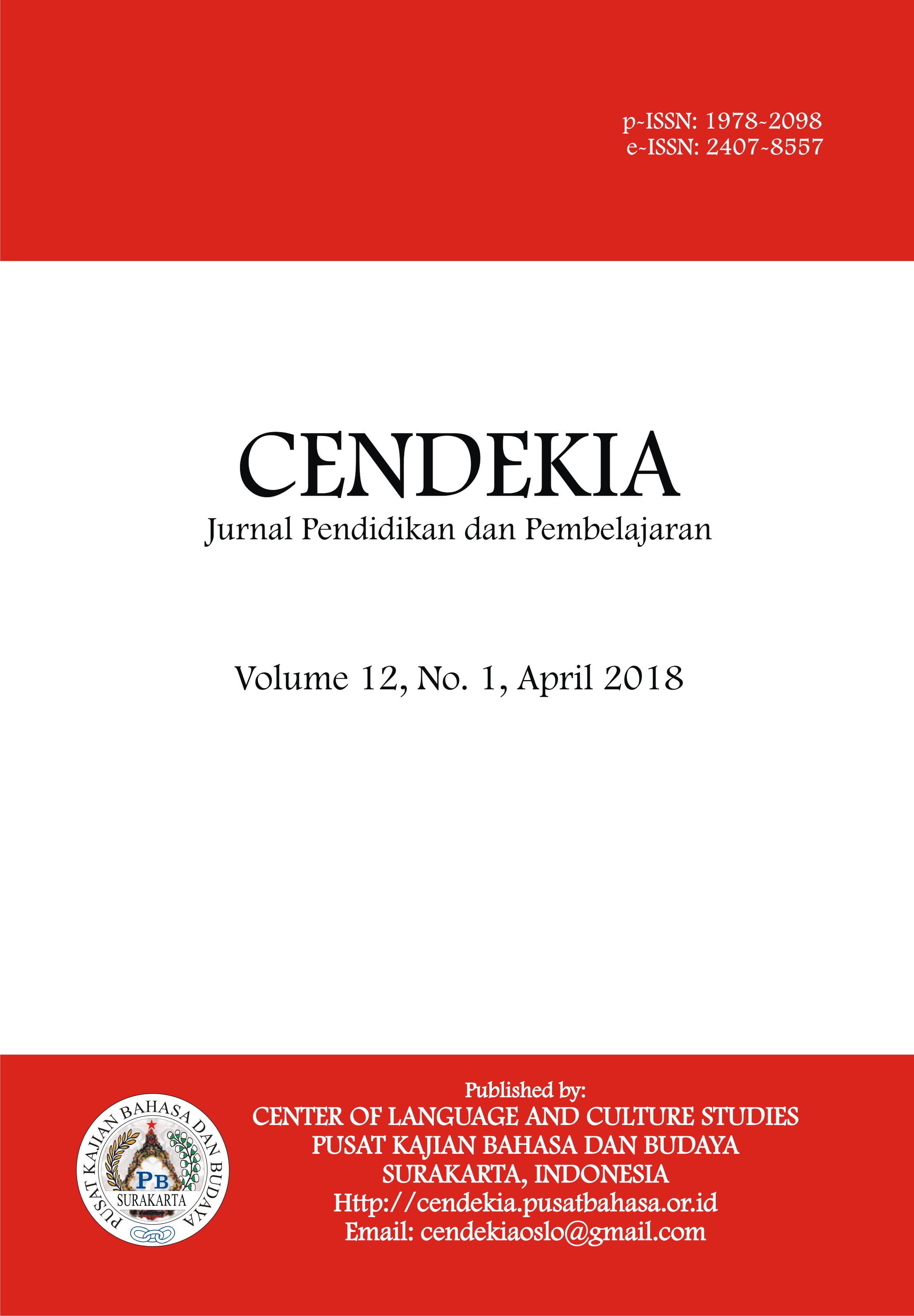 How to Cite
Salam, A. F., & Heriyanto, S. (2018). PENGARUH SERTIFIKASI GURU DAN PENGEMBANGAN KARIR TERHADAP KEPUASAN KERJA GURU AKUNTANSI SMA DI KOTA CILEGON. Cendekia: Jurnal Pendidikan Dan Pembelajaran, 12(1), 23-32. https://doi.org/10.30957/cendekia.v12i1.436
Authors who publish with this journal agree to the following terms:
Authors retain copyright and grant the journal right of first publication with the work simultaneously licensed under a Creative Commons Attribution-ShareAlike 4.0 International License that allows others to share the work with an acknowledgement of the work's authorship and initial publication in this journal.
Authors are able to enter into separate, additional contractual arrangements for the non-exclusive distribution of the journal's published version of the work (e.g., post it to an institutional repository or publish it in a book), with an acknowledgement of its initial publication in this journal.
Authors are permitted and encouraged to post their work online (e.g., in institutional repositories or on their website) prior to and during the submission process, as it can lead to productive exchanges, as well as earlier and greater citation of published work (See The Effect of Open Access).